Guidance to find an apartment – for international students
When is the most common time for searching properties?
When looking for an apartment, you must want to find it from as many properties as possible.
In the Waseda area, the number of properties offered is the highest from February to March and August to September when students graduate.
However, since new students are flooded at the same time (April enrollment / September enrollment), popular properties will be applied by others at once in a short period of time.
For example, you can look for an apartment at a real estate agency in one morning, and then went for a view around noon.
After thinking about it for two days, you may finally make up your mind to apply and go to the real estate agent, while found that the apartment had already been applied by others.
You searched again, and took the look at another apartment and ate lunch. But at the same time, it had been applied again.
The result is there were no more apartments available for viewing and you had to make a decision based on only the few property materials that were handed oven by the agency company.
This is a common occurrence at a time when many people are looking for an apartment.
For those who want to take more time to think
For many students, the monthly rent is the biggest expense they have to spend each month, so some people want to take more time to think before making a decision.
For those who want to check it out with their own eyes and consider it serval times otherwise cannot make a decision immediately, we recommend that you look for an apartment at different times of the year, such as from December to January or from April to May, although the number of properties available will be smaller.
For those who want to decide as soon as possible
In some cases, you may have to find an apartment within a short period of time after you have been admitted by the university, or because there are only a few days when your parents can accompany you or travel to Tokyo.
To improve the situation, the only thing you need to do is to prepare, act, and decide.
During the period when there are a lot of people looking for an apartment, the popular properties will be applied very soon.
Since the properties move very quickly, the customer's ability to take action and make decisions is very important.
Sometimes it is necessary to have a strong determination to decide on an apartment on the same day.
It is a time of competition for properties, but it is also true that there are many properties, and sometimes bargain properties come to the market.
Although this is the time of competition for properties, it is also true that there are many properties, and sometimes a bargain may appear on the market.
Search for properties on the Internet in advance and find as many properties as possible that you are interested in.
Think about the conditions that are absolutely non-negotiable among the desired conditions.
 In order to ensure a smooth application process, we recommend that you prepare the necessary information and documents for the application in your smartphone in advance.
How long do you plan to stay?
In Japan, a general rental apartment contract lasts 2 years. You can terminate the contract within the contract period, but you may be charged a penalty fee.
If your stay expectation is less than 1 year, we recommend that you consider short-term accommodation that could be contracted from 1 month.
Reasons
A penalty fee may be charged if you terminate the contract in less than 1 year.
When you rent an apartment, the initial cost is 4 to 5 times the rent and unavoidable.
You have to pay high fees even though you just live for a short period of time.
If the apartment is not equipped with furniture and appliances, you will have to buy them, and you will have to dispose of them with extra expenses when you move out.
Student Housing Center offers share-house and monthly apartments rental service.
If you find a property that you are interested in, please contact real estate company directly through clicking "Inquiry for Individuals" for more information and details about it.
Rent and Initial Cost
Monthly fee
rent (price varies depending on the area and type of property)
Transportation line and corresponding rent prices
less than 10 minutes' walk from the nearest station, less than 20 years old, exclusive area of 16 square meters or more
 
Mansion

(bath,toilet separate)

Mansion

(bath module)

Apartment

(bath module)

Waseda area
85,000yen~
70,000yen ~ 90,000yen
65,000yen ~ 75,000yen
Tozai line


(Ochiai~Nakano station)

in the higher 70,000yen rage
in the lower 70,000yen range
in the lower 60,000yen range
Sebu Shinjuku line


(Shimoochiai~Kami-shakuji station)

in the lower 70,000yen range
in the higher 60,000yen rage
in the higher 50,000yen rage
Sebu Shinjuku line


(Musashiseki~Higashimurayama)

in the lower 60,000yen range
50,000yen~
45,000yen ~ 60,000yen
Tokorozawa area
in the higher 50,000yen rage
(more than 25㎡)
mostly separate bath and toilet
in the higher 50,000yen rage (more than 25㎡)
common area maintenance charges/maintenance fee : 3,000 yen~10,000 yen
electricity, gas, water fee : around 10,000 yen/month
internet fee : around 4,000 yen/month

*Most of the properties have line facilities, but in many cases individual contract is required


Our partner provider @George

food expenses
transportation expenses
other miscellaneous expenses (books, household items, etc.)
Initial cost
Key money
gratuity payment to the landlord, no refund
Deposit
payment that the landlord keeps as collateral for rent and other expenses, which is refunded when the tenant moves out
Advance deposit
Rent and common area maintenance/maintenance fees for the month and the following month shall be paid in advance. The rent of move-in month is calculated on a daily basis.
Agency fee

a fee of up to 1 month rent + consumption tax of the property is payable to the real estate company

We are offering 20% off agency fee for Waseda related individuals only.
We also have properties available without agency fee.
Click here for properties without agency fee

Guarantee commission fee
About 30% to 100% of rent for the first year
After the second year, you may have to pay the renewal fee.
About guarantor and Guarantee Company 
Household insurance
around 13,000-22,000yen (2years)
Key exchange fee
around 15,000-30,000yen (tax not included)
Life support


(service for water leaks and lost keys at night on holidays)

around 16,000yen-
Other charges
You may be charged for disinfection fee.
Other expenses for moving
Building type
There is no clear difference between an apartment and a mansion legally.
Many real estate agents use the "structure" of the property to determine whether it is an apartment or a mansion.
* Mansion : In Japan, it refers to concrete building.
 
structure
characteristics
soundproof and earthquake resistant
rent
Mansion

Reinforced concrete structure(RC)
Steel-framed concrete structure(SRC)
Steel-framed structure
aerate lightweight cellular concrete

A building of three stories or more
High capacity
The building must have been built in accordance with the new earthquake-proof standard (after June 1981).
Higher rent because of the construction costs.
There are also common areas such as the entrance and elevator, so management costs are high.
Apartment

Wooden architecture
Light gauge steel structure

A building of 2 stories, sometimes 3 stories.
Low capacity
In recent years there are high-performance wooden rental properties.
The rent tends to be cheap because it can be built without spending too much money. Since the building is not so big and does not have an elevator, the cost of facility management can be kept down and management costs are low.
Property types & Room facilities
 
Mansion/Apartment
Student only apartment
Student dormitory
Residents
No limitation
Students
Students
Interaction is possible
Security and management system
Depends on the property. Emergency services on holidays and at night are available, but it needs to be confirmed by the management company.
There are female-only mansions and floors.
Security cameras, auto-lock door, 24-hour management center
without a curfew
Apartment manager is always there if needed.
There are security cameras, auto-lock door and other security features
with a curfew.
Equipment
Depends on the property
Each apartment has a bathroom, a kitchen and a place for washing machine.
The shower and bath are separate from the toilets in many apartments.
Some apartments have furniture.
Most of the dormitory are equipped with a bed, desk, bathroom, kitchen and washing machine.
Meals are included in most cases.
Initial cost/rent
Depends on the property
Initial cost is 4.5 to 5.0 times the monthly rent.
Higher initial cost and rent for better management and facilities.
Meals, utilities, and internet are often included in dormitory fees.
Some are more expensive.
Vacancy information
Known a month or two before the current tenant moves out.
Contracts can be signed early and rent payments can be made in the spring
Next spring's vacancy information will be known around autumn.
Internet
There are some properties that offer free internet access, but in some cases, you may need to sign up with a provider, and sometimes installation work may be required by the telecommunication company.
If you are looking for a fast connection speed, we recommend you search for properties with the necessary conditions such as "fiber-optic connection".
Student only apartment, Dormitories,  Share-House
Internet usage fees are often included in the monthly cost.
Auto-lock door
The rent is higher than those without auto-locks.
Furniture
Some students have preferences to choose an apartment that is already furnished.
Generally speaking, there are very few furnished apartments, so some students choose to use furniture rental service.
Other requirements that are common among Waseda University students
shower and bath are separate from the toilets
Delivery box
Flooring (few properties have tatami mats or carpet)
Air conditioner (basically, most properties have air conditioner)
Intercom with monitor
Wash basin (rents are higher in center Tokyo)
How to read an apartment layout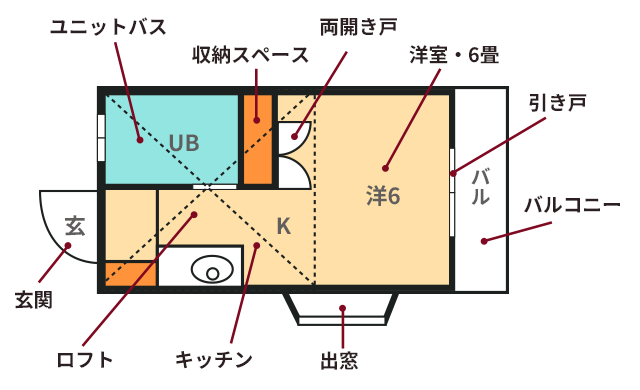 Guarantor and Guarantee Company
For a landlord, rental income is an important income for living expenses and to pay off the loans that owe on the building. If you fail to pay the rent, the landlord may not be able to live.
Therefore, landlords often ask tenants to have a guarantor or to use a Guarantee Company when making a contract.
Recently, there are more and more cases in using a Guarantee Company to rent an apartment.
What is the Guarantee Company?
The Guarantee Company is the company that takes on the risk of non-payment of rent for the landlord.
In case of the overdue payment, the landlord has the right to ask for the delaying rent under certain situations.
And the tenant pays a deposit to the Guarantee Company at the time of signing the contract.
What is the guarantor?
In the case of non-payment of rent, the guarantor is obligated to pay the overdue rent on behalf of the tenant, and the landlord will ask the guarantor to pay the rent if the rent is overdue.
※The guarantor is responsible for the maximum amount set per contract.
Waseda university is not a guarantor or emergency contact.
The guarantor is needed to provide proof of income and seal registration, etc. when signing the contract.
The guarantor should be an acquaintance of you that lives in Japan, it is recommended to use a Guarantee Company unless you have a very close relationship with the acquaintance.
Who can be a guarantor
Japanese with fixed-income
Foreign nationals who have a permanent residence in Japan and fixed-income
Points to check when go for a view
Time required from campus to the property
Commuting time from the nearest station to the property and the environment (street light, traffic, pedestrians, etc.)
Nearby convenience stores, supermarkets, hospitals and banks
Environment around the property (noise and vibration from cars passing through the neighborhood, sunlight, security, noises from neighborhood, etc.)
Building facilities (room size, stove, lighting, storage, security, etc.)
Arrangement of major furniture and appliances (bed, desk, refrigerator, washing machine, microwave, etc.)
※We recommend that you take video and photos of the property. (Please ask for permission from the landlord or our staff
before taking pictures, and do not take pictures for the purpose of uploading them to social media.)
It is recommended to take measurements of the size of washing machine space, the length of the curtain rail, and the height of the windows.
Points to keep in mind when application
Make an application to reserve the apartment one decided.
If you do not make an application, there is a possibility that the apartment will be reserved by someone else.
The application form must be completely filled out before it is accepted.
Prepare the necessary identification and information in advance. required identification for application
Ask the real estate agent to prepare an estimate of the initial cost (rent, common service fee / management fee, deposit, household insurance, guarantee commission fee, agency fee, etc.). At that time, tell them the date you wish to move in.
| | |
| --- | --- |
| Contract start date | the start date of the contract |
| Payment start date | the start date of paying the rent (the same as the contract start date in most cases) |
| Move-in date | the date you actually start using the apartment. |
After you apply, the Guarantee Company or landlord immediately start screening your application.
Depending on the results of the screening, you may not be able to move in.
The reason for not passing the screening will not be notified.
We do not recommend applying for multiple properties at the same time.
You may be charged a cancellation fee, so be sure to check with the person in charge of the property.
Required identification and documents for application
Students (including prospective students and expected to graduate)
Passport
Residence card (both sides)
Student ID (both sides) 
※If you plan to enroll in the school, you will receive a letter of acceptance.
※If you have already found a job, submit a letter of employment or employment contract that shows your wages (expected).
Health insurance card (both sides)
Seal
guarantor with fixed-income
Address, phone numbers (fixed and mobile), date of birth, work information, annual salary, length of service, etc.
Identification (driving license (both sides), health insurance card (both sides), passport, etc.)
※You may be required to submit proof of income, seal registration certificate and certificate of residence at the time of screening process.
Domestic emergency contact information (e.g. friend)
Name, address, phone number (fixed or mobile), date of birth
Required documents for contract
You need to submit the following items in most cases.
Please prepare these documents after receiving a request from the real estate company.
Certificate of residence of the contractor or tenant.
Proof of income of the contractor or guarantor
A registered seal and a certificate of registered seal, etc. are required for the guarantor
Points to check when signing a contract
The real estate agent needs to explain the "statement of important matters" for you before signing and sealing.
It is very important to listen to the explanation carefully, and feel free to ask questions about unclear points.
(For properties located in Tokyo, it is also obligatory to explain the " Explanation Based on the Ordinance for Prevention of Residential Rental Disputes ".)
Make sure to pay special attention to the following items.
Contract period
Settlement at the time of moving out (refund of deposit, condition of the property, etc.)
Prohibited items
The number of months to be notified for terminating the contract (often 1 to 2 months')
Contact details in case of equipment failure
Contact information for contracts
Payment of rent etc. (when, where and how)
Notification of the start date of electricity, water and gas service
Once you finish signing the contract, you can start using the electricity, water, and gas service by phoning the specific company or registering online.
You could choose the different services and price plans provided by different companies depending on your preferences.
For electricity and water services, you only need to contact the utility company, but for gas services, the staff of the gas company will come to your apartment to confirm the safety of the connection of gas equipment. You need to make appointment with the gas company. If this process is not completed, you will not be able to use the gas.
About the internet
There are some properties that offer free internet access, but in some cases, you may need to sign up with a provider, and sometimes installation work may be required by the telecommunication company.
Points to keep in mind when moving in
The standard condition of the apartment is the condition when moving in.
You should keep the condition of your room as the time you move in.
When you move out, the landlord or the management company will come to check your room and if there is any damage or stains in the room, you need to bear the cost of repairing them.
When you move in, the condition of the room will be thoroughly checked before you bring in your belongings. We recommend that you take pictures of any scratches or stains that you are concerned about just in case.
Protect yourself to avoid being charged for anything you don't want to be charged for when you move out.
Another thing to pay attention to reduce the burden of moving out is to use the property correctly and clean it in timely.
If there is any problem, contact the landlord or management company immediately.
In some cases, the tenant is required to provide the landlord with a defect checklist after moving in. Please confirm this when you take your key.
scratches, and nail holes in walls and ceilings
stains, scratches, burn marks on the flooring or carpet
check for cracks or scratches on the window glass, whether it can be opened or closed, and whether it can be locked or not
the condition of the screen door and shutter
the condition of air conditioner in both air conditioning and heating
the lighting condition
the outlet, switch and plate
check for mold or odors in the apartment or storage
the condition of doors, sliding doors, and storage doors
check for dirt, scratches, mold, cracks, etc. in the water area, operation problems and water clogging
Rules of taking out the garbage
The way you take out garbage differs depending on the country and the area you live in, but even in Japan, the way you put out your garbage is very important.
Taking out your garbage arbitrarily will bring problems with your neighbors and landlord, so be sure to follow the rules.
There are very strict rules for the separation of household garbage.
Rules of taking out garbage differs depending on district or city. It's important to check each city's homepage to find out the rules of taking out garbage.
for example :Rules of taking away garbage for Shinjuku-ku
You should always check with your landlord or management company when you move in as there are fixed garbage collection days and locations.
You may not be allowed to dispose of your garbage at night because crows and cats may vandalize it. Sometimes the specific time to take out garbage is also determined.
Close the mouth of the garbage bag tightly to prevent the garbage from coming out.
Large-sized garbage
You should not always take out home appliances and furniture without permission when you move out.
Disposal fees vary depending on what you want to take out, so be sure to contact your local large-sized garbage reception center to confirm.
You must make apply by phone or on the internet about the collection date.
You will also need to purchase a sticker to pay the disposal fee at a convenience store.